Compassionate Commitment to all
We strongly believe that every dog deserves the opportunity to live his or her life as a part of a loving
and caring family. All dogs are equal in our eyes, and each one has a special gift to give.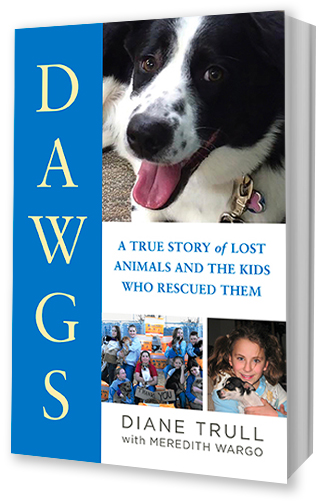 DAWGS: A True Story of Lost Animals and the Kids Who Rescued Them
We can all make a difference. Elementary-school teacher Diane Trull's life-defining moment happened when her fourth-grade reading class saw a photo of a cardboard box overflowing with homeless puppies. Trull was no stranger to rescuing abandoned animals. She and her husband Mark had made it their mission to find permanent homes for stray dogs and cats. Now her young students were determined to save these lost pups and others like them. And in that moment, the Dalhart Animal Wellness Group and Sanctuary—known as DAWGS—was born.
"Inspiring and passionate, this heart-stopping story tells how a teacher and her fourth-grade students became a force for good—one dog at a time. Every town needs a hero like Diane Trull, and a sanctuary like DAWGS. This book is a reminder that, regardless of age, we all have the power to enhance the lives of animals and make the world a better place. Diane Trull and her class of nine-year-olds put the humane back in humanity."
— Helen Brown, New York Times bestselling author of CLEO, BONO, and JONAH